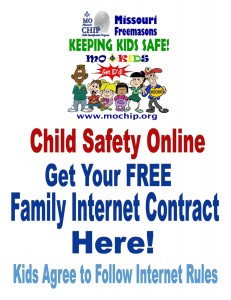 Families who communicate have a far greater chance of remaining safe, no matter the subject matter. There are lots of "rules" on how kids should use the Internet and mobile devices, but the most important rule there truly is–parents and kids must talk about safety–and in this case, Internet safety.
It also helps to agree to a set of conditions for using the Internet, further driving home the importance of the discussion and the subject matter. A Family Contract is a perfect solution to what should be discussed and then agreed upon. You can create your own contract or use a prepared contract like the one we provide: MoCHIP Family Contract.
You can even add your own rules to the contract and have the kids come up with some too.  Having the whole family involved in the rule-making aspect gets everyone excited and focused on the end result. When the contract is finalized, one should be printed out for each child, and each contract signed by the parent(s) and one child. They should then be placed near a computer or central family gathering area. By doing so, it serves as a reminder and drives home the message that everyone in the family has made a commitment. A family contract also makes parents accountable for keeping tabs on their children's activities.
Another good idea is making up age appropriate contracts for tweens and teens. It's a great reason to sit and talk with your teens and learn what their version of safe Internet interaction is. Together you can tweak these discoveries and create guidelines for them to follow.
This Family Contract for Internet Safety can be downloaded here MoCHIP Family Contract or can be picked up at any MoCHIP Child ID Event.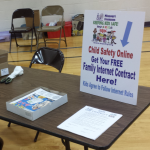 Line #3 St Joseph, MO