On July 21st, 2018 there will be 7 MoCHIP child ID events across the state that will be held in conjunction with the Department of Family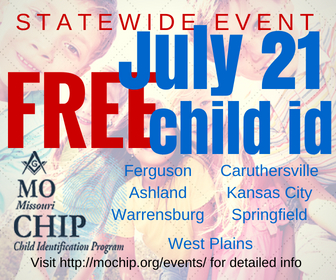 Services. In a joint effort with Past Grand Master John Hess, a state employee with DFS, MoCHIP Regional Coordinators, seven Masonic Lodges, the Masonic Children's Foundation Board, our MoCHIP State Coordinator and MoCHIP Administrator, the statewide wide events were created to take place simultaneously on Saturday, July 21st. The Missouri DFS team supports MoCHIP in their fight to help keep kids safe.
As always, these events are free thanks to Missouri Freemasons; confidential, as the parent is the only recipient of the child's critical information; and open to the public.
Please take 15 minutes out of your day to protect your child with this Amber-Alert compatible recovery tool.
Click here for media coverage of these upcoming events: http://www.komu.com/news/program-offers-parents-free-data-service-in-case-of-amber-alert
The St. Louis area event will be held at the YMCA in Ferguson 93390 Pershall Road) and is cohosted by Beacon #3 and Bonhomme #45 Masonic Lodges along with Valerie Taylor from the local DFS office. 10am-3pm
Ashland #156 Masonic Lodge will host an event at their Lodge (215 E. Broadway, Ashland) with the help of DFS staff member, Donna Jo. 9am-3pm
The First Baptist Church in Warrensburg (1302 S. Maguire St.) is the event location for an event hosted by Granite #272 and Corinthian #256 Masonic Lodges and Joe Williams from DFS. 10am-2pm
Caruthersville Fire Department (104 East 7th St.) will host an event along with Four Mile Lodge #212 and DFS representative Fay David. 10am-2pm
Independence Lodge #76 is the site for an event (5 Pleasant St., Independence) and will be attended by PGM John Hess along with Sherry Harris, also from DFS. 10am-2pm
The Springfield event will be located at the Abou Ben Adhem Shrine (601 East St. Louis Street) and is hosted by Republic Masonic Lodge #570 and Brian McCarley from DFS. 9am-2pm
Last but not least, is the event in West Plains taking place at the West Plains Library (750 West Broadway) and hosted by Mt. Zion Lodge #327 and DFS staff member Steve Kissinger. 10am-3pm
For a complete listing of events and maps of their location, please visit https://mochip.org/events/.